TrueFire courses are available in a variety of formats and include PIP video of the picking hand, text commentary, practice rhythm tracks, tab, standard notation and Guitar Pro files.
Instant Download with TrueFire Course Player: Desktop App
You can download the course with TrueFire's Desktop App (Windows 7+ and Mac 10.7+). All the courses videos plus any additional assets (text descriptions, charts, power tabs and jam tracks).  

Learn more downloading to the Desktop App
Software Disc + Download
You can choose to purchase a Software Disc version of the course (Windows, Mac Linux). The course will be shipped to you on a DATA-DVD disc. Each Software Disc comes with TrueFire's Interactive Video Player, all the courses videos plus any additional assets (text descriptions, charts, power tabs and jam tracks), PLUS get a complimentary download of the course for backup purposes.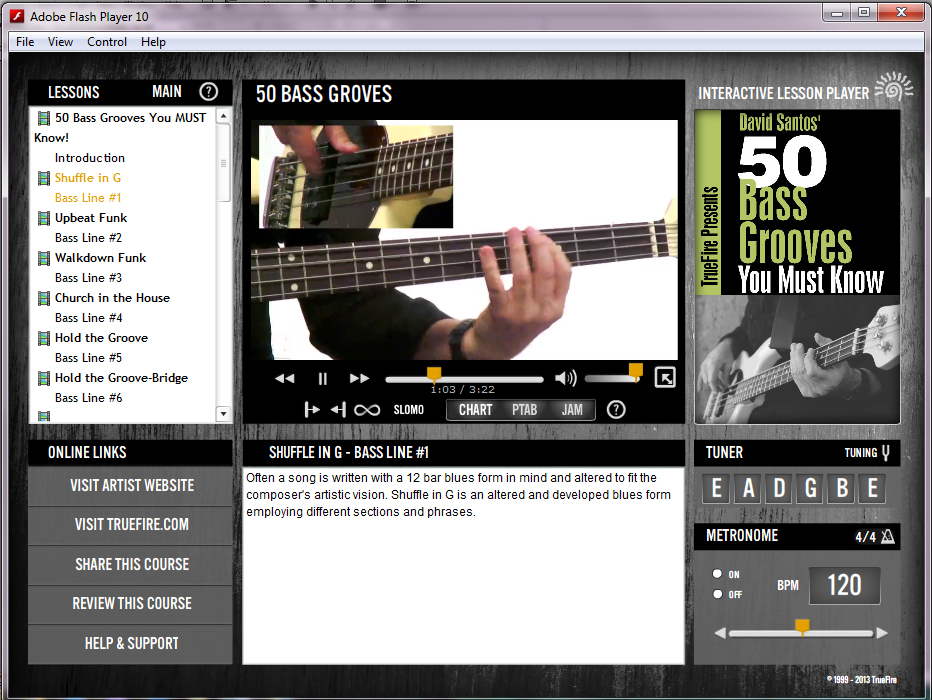 TrueFire courses are Windows, Mac & Linux compatible and play only through the included TrueFire Video Player. They do not play in standard DVD players. All orders are shipped via USPS and include a complimentary download of the course within the Desktop app. Additional charges are applied to international orders.
Learn more about playing a Software Disc
Stream Online For All Access Students and Purchased Courses
All TrueFire courses are also available to be streamed on the web (in your web browser) and on our iPad app in their entirety with text, notation, power tab, practice rhythm tracks, zoom, looping, playlists and a variety of other handy controls.
As an All Access Student you can stream the video lessons and download any additional charts, power tabs or jam tracks.
The web version of the streaming lessons is responsive, so you can stream on the iPhone, Android or other tablet devices through your web browser.
Free Students can watch their purchased courses and any free full-length samples of other courses by selecting the "Watch" or "Watch Now" buttons on any course page.
Become an All Access Student today
iPad App
The TrueFire iPad app is designed to serve our students as their mobile gateway to our entire course library on the iPad. iPad access comes complimentary with any course purchase - Instant Download and/or Disc + Download.
Depending on your TrueFire student status and preference, video lessons can be downloaded to study offline, or streamed over any WiFi connection.
Learn more about iPad app access
--
We do not have an Android app available for downloading the course material at this time, but we do plan on expanding into this market in the future.

You can stream any course purchase online through your Android device using your web browser.
As a All Access student you can stream any course through the browser. As a free student, any purchased course can now be streamed online as well.
To do so, log in to your TrueFire.com account and go to My Courses. Then click on "Watch Now" and select the "All" tab to stream all the lessons on your Android device.