The TrueFire iOS app (iPad/iPhone) is free to download from the iTunes Store. Once installed and launched on your iPad/iPhone, see the steps below to learn how it works.
All Access Students and 30-Day Trial Students can stream any course through wifi or cellular. Free Students can stream or download any purchased course.
**Please note: the design of the app may differ from the images below as we are constantly making updates and adding additional features. General functionality should be consistent.
LOG IN or JOIN FREE
If you are an existing TrueFire student, please Log In to TrueFire using your username and password. This ensures your current TrueFire Student Plan access and existing course purchases will be recognized in the app.
If you are not an existing student, you can Join Free.
If you just want to peek around the app, feel free to "Skip for Now".
NOTE: Any in-app iOS purchase made as a guest will not sync to a TrueFire account. In order to access from TrueFire online or in any other TrueFire app, you must Log In to your TrueFire account prior to purchase.
EXPLORE - Recently Watched, New Releases, and MORE
Once logged in, explore at a glance at recently watched videos, popular courses, hot lessons.
MY COURSES
My Courses displays your purchased TrueFire courses. Purchased courses are indicated with a orage flag in the upper left corner.
Dashboard tab - Displays all your Owned, Recently Watched, Favorites, Wish List, In Progress & Completed courses
My Collection tab - Allows you to organize your courses into folders
Downloads tab - Displays courses/lessons downloaded to the device for offline access
MY COURSES - STREAM/DOWNLOAD PURCHASES
Purchased courses can be streamed online or downloaded for offline access.
Download Full Course
Download Individual Lesson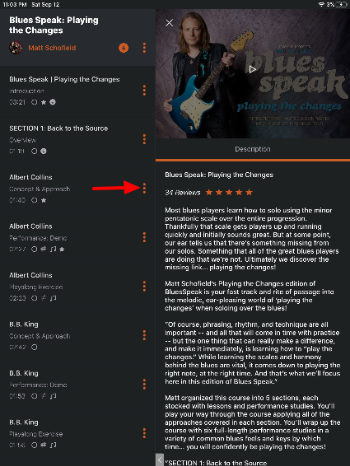 Tab Sync
The Tab Sync player shows you beautiful standard notation and tablature right in the iOS app. Look for the Tab Sync icon on specific TrueFire Lessons.
iPad View
iPhone
MATERIALS - CHARTS & JAMS
The Material tab will display the PDF chart and play the Jam track (when available). Use the bottom right "<" icon for additional chart/gp5/print options.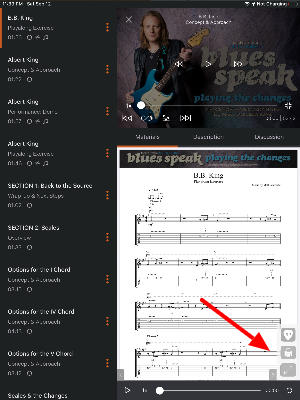 Additional Course Options
Star - Add Lesson to Favorites
Track Progress - Make a video lesson as Complete, In progress or Not Complete
Add to Playlist - Create your own playlist of video lessons from any course
Download - Download the specific lesson to your iOS device (only available for purchased courses)
PLAYER CONTROLS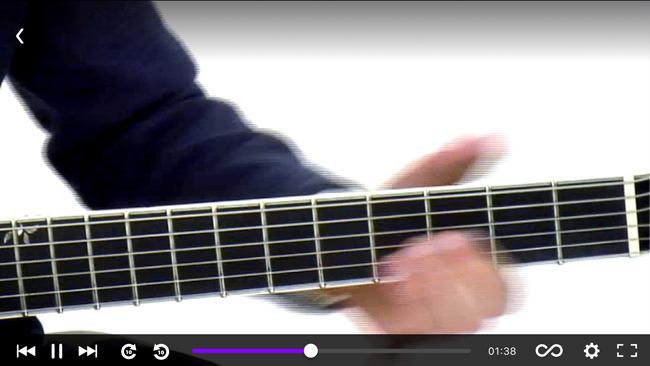 Last Video, Play/Pause, Next Video




Rewind, Fast-forward (10 secs)

Looping

Playback (Slow/Fast Speed of Video .5x, 1x, 1.5x) & AutoPlay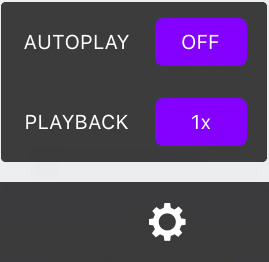 Full Screen

FAVORITES
View your Favorite Courses and use the star to add additional courses.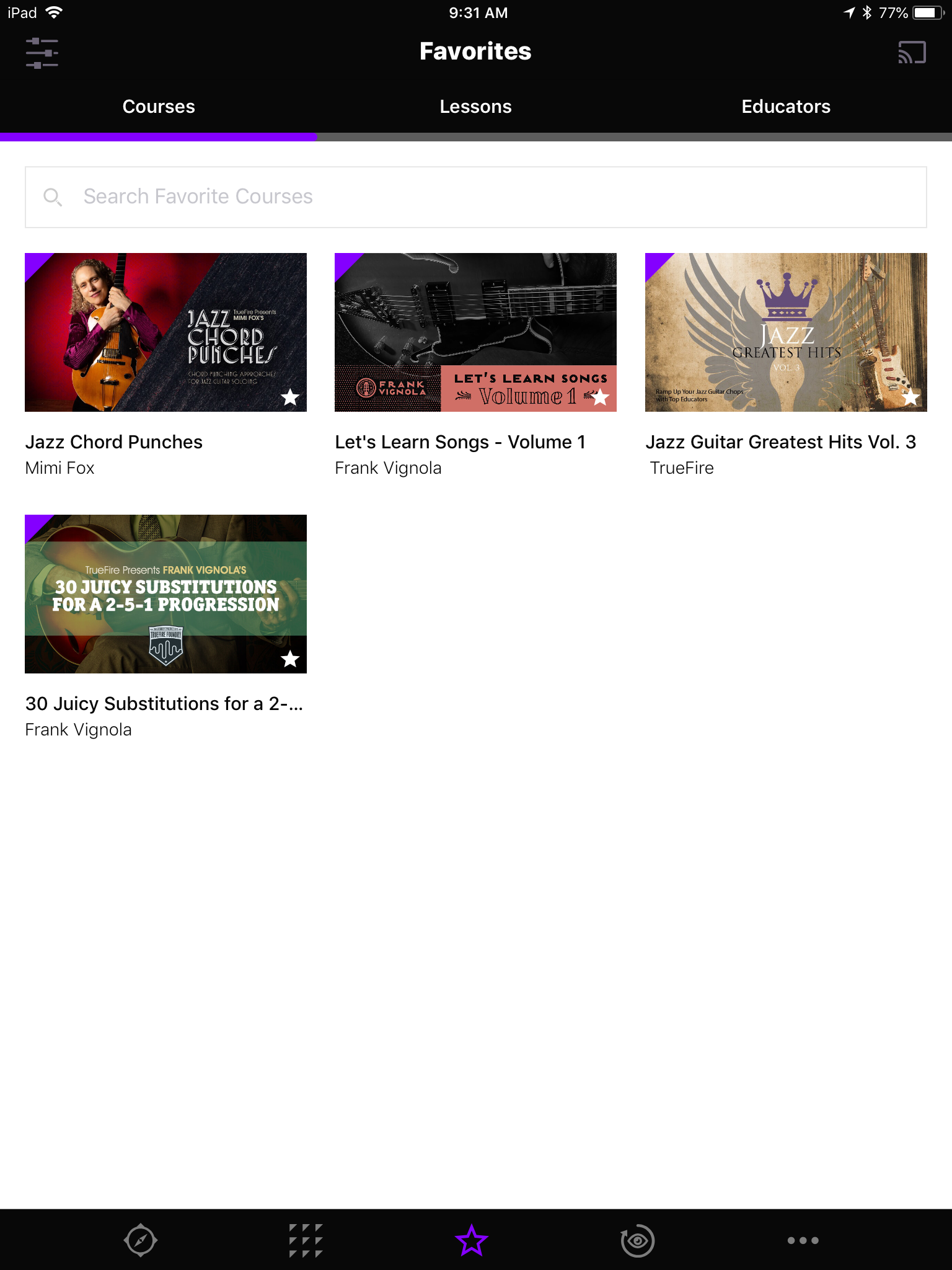 RECENTLY WATCHED
Easily access previously watched Courses and Lessons under the Recently Watched section.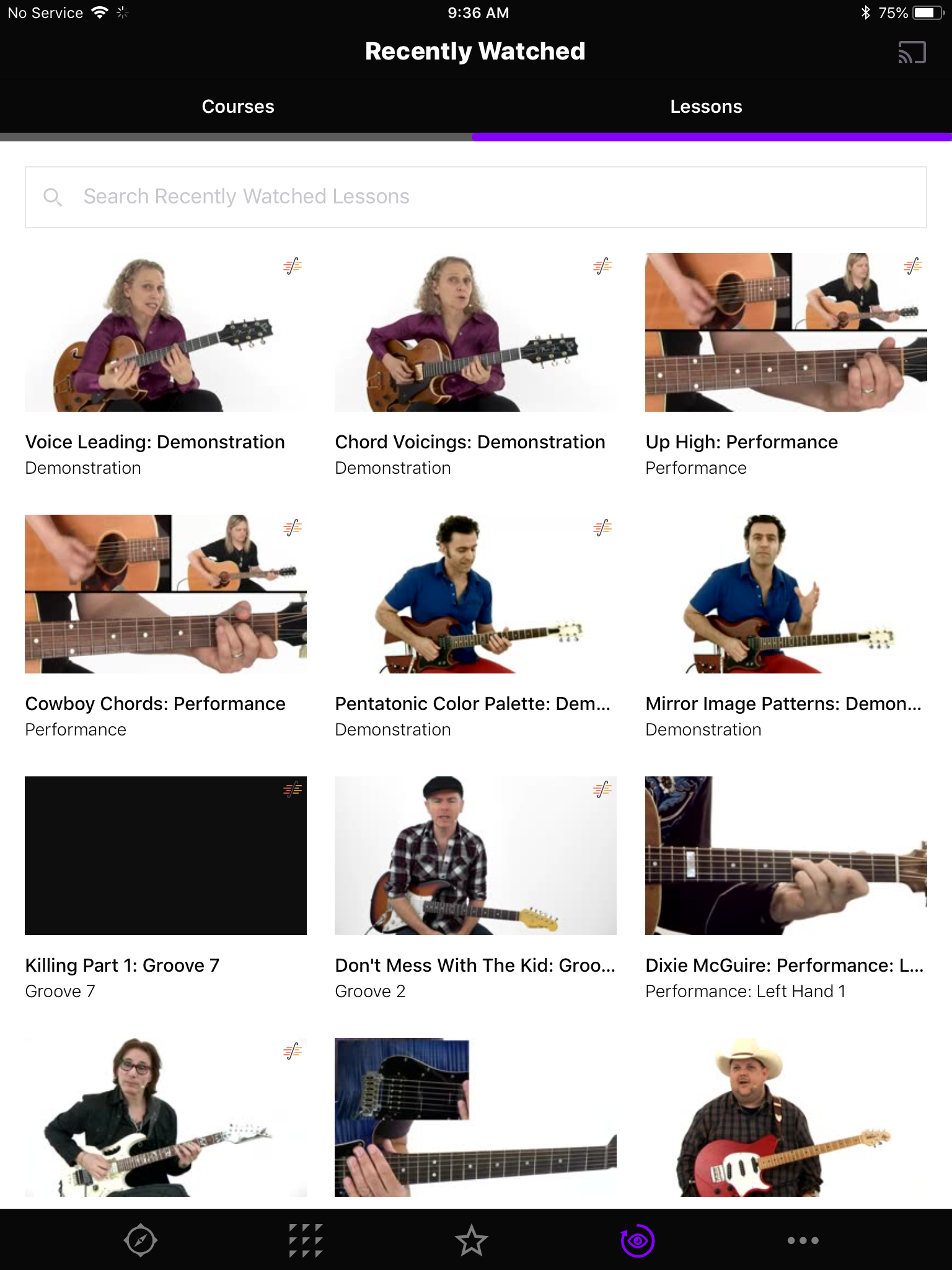 SEARCH
Search our entire library or My Courses to find the perfect course for you.
LANDSCAPE & FULL-SCREEN
OFFLINE ACCESS - DOWNLOADED LESSONS
All lessons downloaded are available for full offline access.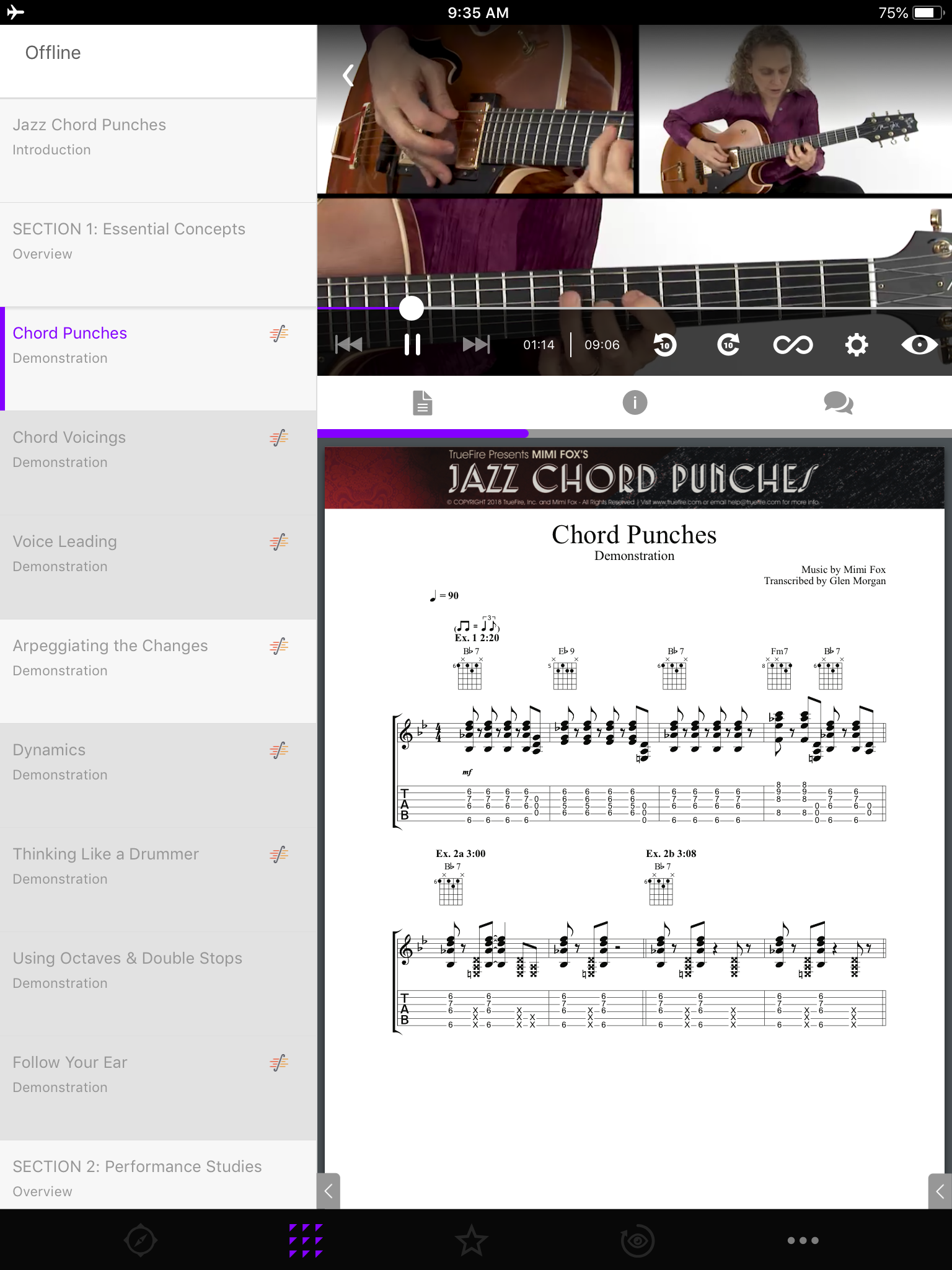 ADDITIONAL SETTINGS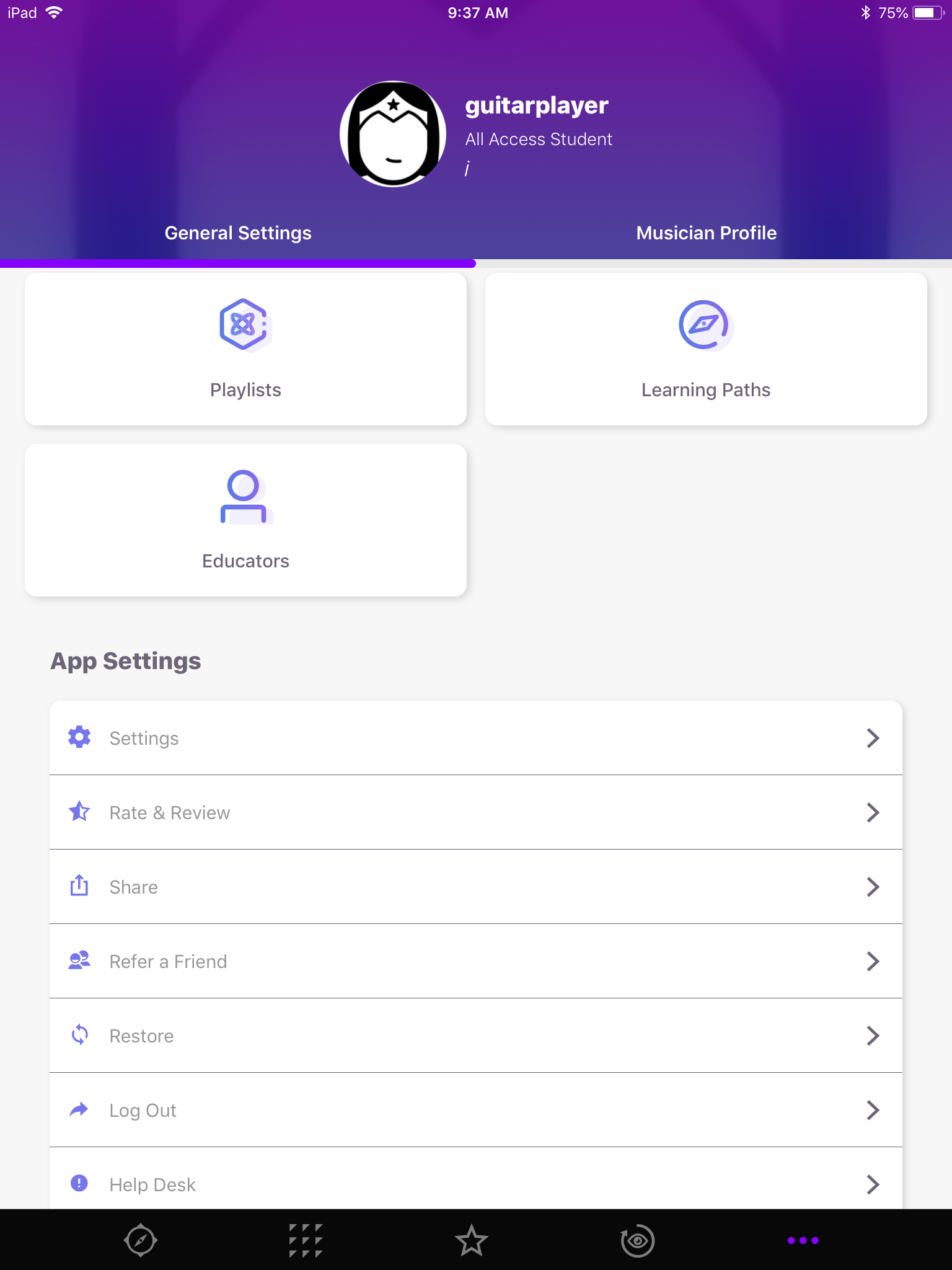 PURCHASE COURSE
Courses can be purchased at any time. Purchased courses can be downloaded for full offline access.
NOTE: In-app purchases go through iTunes. We are not able to pass along any savings, discounts, promo codes or sales. For optimal savings, make your purchase on the TrueFire website.